"How does major medical insurance work?"
The term health insurance is very broad. Although any type of insurance that helps offset the cost of medical expenses can be referred to as health insurance. However, "Major Medical Insurance" is very specific to its benefits. As the term "major" implies this type of coverage is designed to cover major and catastrophic injuries or illnesses. So, let's answer your question: how does major medical insurance work?
Today's modern plans can cover all medically necessary treatments including routine doctor visits and prescriptions.  Recently all major med plans have to meet the guidelines and standards made law by our federal government.  
Having a full grasp and understanding of this very expensive type of coverage is crucial in today's world.  
In this article, I will answer a couple of the most common questions that are often asked because many people find this subject difficult to understand.  
For some of you, I may be discussing a lot of things that you may already know. I do not take for granted that that will be the case for many of you, however.
As a broker and an agent, I feel that my highest priority is educating my current, prospective, and future clients.
Choosing the right match of coverage for your group based on price versus benefits is important, so understanding all the terminology that comes along with major medical is crucial.  
Medical Insurance History in America
Let's take a quick look at the history of medical insurance for a moment.
The first was a type of medical insurance was an accident policy it was developed here in the U.S. by a company called The Franklin Health Assurance Company of Massachusetts in 1850. The insurance industry then grew very rapidly.
During World War II due to a very tight labor market and a shortage of materials, employers needed a new and different way to attract quality employees which at the time were extremely limited. The did so by offering so-called fringe benefits with medical coverage being the main source.
That was just a short history of how major medical insurance plans and benefits as we know them really came about. Numerous times over the years since, a socialized government run healthcare system has been proposed.
With the passing of the A.C.A. (Affordable Care Act), also referred to as ObamaCare, in 2009, we may have quite possibly witnessed the ushering in of just that. However, we are warching the current administration makes moves to do away with the ACA.
Our country seems to be very divided on the topic of Obamacare and its possible replacement. Politics aside, all we can do is try to make sense of our current situation. 
We certainly feel that it would be foolish to predict just what will happen into the future, so as news unfolds we will do our best to keep you informed.  Having a proactive agent or agency on your side certainly helps.
Let's break down the different parts of all major medical coverages. This will answer a couple of the most common questions I get asked.
 "What does major medical insurance cover?"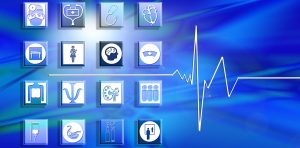 Benefit of Network

All major medical plans utilize a network of contracted providers that have agreed to give a discount in order to attract the members of the insured and to also help insurers gain reduced prices on services leading to lower claims payment.
The two main types of networks are called a P.P.O.'s (Preferred Provider Organizations) and H.M.O.'s (Health Maintenance Organizations.)  P.P.O.'s usually offer much more flexibility than H.M.O.'s, where they will sometimes make exceptions to allow covered treatment from different out of network providers along with more freedom of access to them.
In Mississippi, the state I live in, the only H.M.O. plans are the government subsidized health exchange Obamacare (A.C.A.) plans.
These plans will absolutely not pay at all unless you are "in network," and you have to always go through a general practitioner prior to seeing any specialty doctor.
I have seen P.P.O. discounts pay more than half the bill. Other times it may only be 10 or 20 percent off. Either way, these plans help to greatly save on out of pocket expense.
Preventative or Wellness Care

 The first thing everybody needs to know here is that wellness or preventative treatment is now free of charge by law.
These free of charge procedures are many, and vary according to the age group and the sex of each individual. Taking full advantage of these no-cost wellness and preventative tests and screenings are so very important when using a major medical plan to its fullest potential. Sadly many people have suffered needlessly, and many times have passed away by not having found the problem earlier.
Keep in mind that if you are sick or having a medical issue then this benefit would not apply. These benefits are meant for checking for problems without any symptoms.
Once you have symptoms then this is no longer a wellness screening but medical care for a problem.
For example, people over 50 years of age qualify for a colonoscopy with no cost. If that same person is having one done because they are having intestinal problems, there will now be an out of pocket expense associated with it because they are treating a problem and not trying to find a potential one.
I encourage all my clients to educate themselves to become aware of which wellness screenings are available and waste no time in having them performed as soon as possible.
Once again, preventative and wellness care visits are free of charge by law.
Office Visit Benefit

The main thing to keep in mind here is to always use a regular physician when possible. They are the most affordable providers of healthcare available.  Some plans may limit the number of doctor visits per year but many, if not most, plans have unlimited coverage for doctors if necessary.  

Prescription Drug Benefit

This benefit is not always a part of all major medical plans and may be subject to a deductible.
Prescription drug prices are becoming less affordable every day. If you have this benefit and use it wisely, it can also help greatly in reducing out of pocket expenses.
Usually, the prescription drug benefit has drug copays that are set up in tiers or levels ranging from $10.00 on up to $100.00. For example 10/35/50/100 dollar copays.
Some plans may have annual drug deductibles before the copay system would kick in. Many insurance companies may require that less expensive, alternative drugs must be tried out before covering a more expensive medication.
Large pharmaceutical retailers such as Walmart, Kroger, CVS, and Walgreens have lists of generic and non-generic drugs for as low as four dollars. This option is more affordable than any other.
Having a drug benefit can help when a more expensive drug is needed. There are some prescriptions without this coverage can reach into the thousands of dollars per dose.
Keep in mind that some plans have deductibles such as 100 dollars or more in place before the co-pays start to kick in.  Network discounts often apply when purchasing prescriptions.  
Prescription drug costs are astronomical, this is an area where taking proper care of yourself through good healthy habits can have a great effect on reducing their usage.
What About Co-Pays and Deductibles?
Co-Pays

 A co-pay charge is an amount payable for the office visit charge.  Any tests or procedures performed in house are also covered but can be subject to a percentage of charges, based on your plan's coinsurance design.
80/20 is the most common with patient responsibility equalling 20 percent although we see many 70/30 plans to help cost.
Some companies will pay 100 percent of in office procedures and tests, but pay nothing for any type of in-house surgical or larger types of treatments.
Let's say a doctor's office draws blood to have it looked at. If they check your blood with their in-office lab then it is not subject to a deductible, but if they send the blood to the hospital then the cost would be a deductible expense.
Having a doctor with on an on-site lab, x-ray etc. is a good idea.  A full understanding of the specifics of coverage on having this benefit is important.  
This benefit is not available on all plans and may not be covered until a deductible is met.
Deductible Expenses

Stretching your deductible dollar is always a smart thing to do. Once a deductible is met then that's when the coinsurance percentage may become a factor until the maximum out of pocket or (O.O.P.) is achieved.  Keep in mind that any money spent on office or drugs also counts towards the max O.O.P., that was not the case prior to the Affordable Care Act in 2009.
Paying for some hospital and surgical procedures will happen until you have reached your deductible. If it isn't an emergency, and you have time available, then shopping prices for different surgeries and procedures with different providers is a great idea. 
Some plans pay one hundred percent once the deductible has been met. Once you reach your maximum out of pocket deductible, every service rendered from then on is now covered in full at 100 percent.
Major medical coverage now is also unlimited by law, whereas before there were caps of one to five million dollars on the limit of the total insurance payout.
Family coverage deductible is met when two or three members have reached their deductibles. Two or three times depending on that particular insurance company's guidelines.
All types of health insurance including major medical is based on a written contract.  
Conclusion
If you fully understand your own unique plan then there can and will be no surprises. Sometimes rare situations can be gray in nature and there can be appeal processes between insureds and insurers.
Assistance can be found from the insurance commissioner's office whose duty it is to look out for and protect consumers from misrepresentation or mistreatment.  
I hope I was able to provide some clarity and value by answering the questions that are most commonly asked about major medical insurance plans and benefits.
If you would like to learn how you can lower your group health benefits rates, I have tackled this subject in an article that contains Strategies to Lower Group Health Rates.
While this article was written with business owners and Human Resources benefits coordinators in mind, there is valuable insight and actionable points for individuals to learn how to help themselves as well.